We're proud to announce that you can now configure a custom MAIL FROM domain for emails sent by Noticeable. This helps improve deliverability and trust.

The configuration requires a few steps:
Click on "Emails" in the left navigation on the Noticeable dashboard.

Open the "Email domains" settings group and click "Add domain".

In the dialog that appears enter your company email domain (e.g. acme.com) and click "Continue".

At this stage, you are asked to add a set of DNS records to your domain's DNS provider. These records are required to prove that you own the domain. Once done, click "Verify".
Upon verification, your domain is automatically activated and emails you send now appear as coming from your company domain: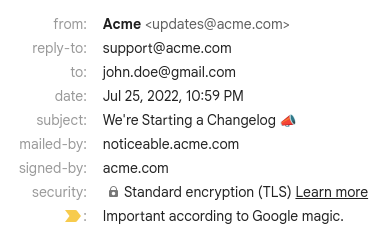 Note that Noticeable follows industry standards and once the configuration is completed, your emails are authenticated, thus passing DMARC and SPF verifications.